2221 Meridian Blvd.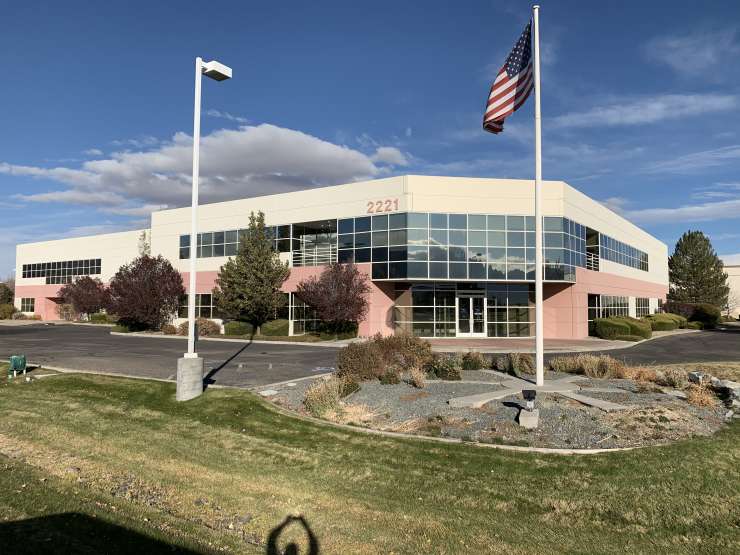 • $0.75 Per Square Foot, Modified Gross Lease
• Full HVAC to entire building
• 2.5 Acre Site
• Ideal for Corporate Headquarters
• 360 Degree Views of Carson Valley & Sierra's
• Located in the Meridian Business Park
• 1,600 AMPS of 480V 3-phase power panel
• Building was designed for multiple tenants, easy to
demise up to 3 separate units
Property is located less than 1.5 miles from Hwy 395 in Minden, NV inside the Meridian Business Park. It is located approx.
10 miles south of Carson City, 45 miles south of Reno, 126 miles east of Sacramento and 212 miles east of San Francisco.
Hwy 395 & Hwy 50 are the 2 major highways that serve this region. Truck service from Minden can reach 7 western states
within 1 day and another 4 states on next day service. Nevada has no personal or corporate state income tax, no inventory
tax, no franchise tax, no unitary tax, no estate and or gift tax, no inheritance tax and no special intangible tax. Sales tax in
Douglas County is currently 7.1%. Building is located one block from a 1,000,000 SF + Starbucks roasting facility. Nevada
offers several different incentive programs for businesses relocating here.
Property Details
Rate: $0.75 PSF MGL
Address:
2221 Meridian Blvd.
City:
Minden
State:
NV
Zip:
89423
Status:
Active
Property Type: Manufacturing
Space Available: +/- 42,441 SF
Lease Type: MOD Gross
Lot Size: 2.5
Zoning: Light Industrial
Year Built: 1994

Contact Us About This Property