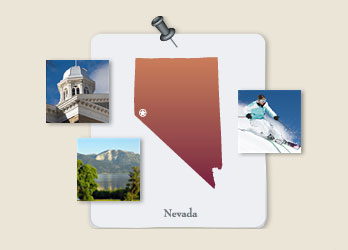 Nevada is a business friendly state with an attractive tax climate. Along with Northern Nevada's affordable housing, high quality of life, world class recreational year round activities, mild climate, amazing landscapes & ideal location all make Northern Nevada a great place to relocate an existing business or to start a new one.
Nevada Tax Benefits
No Corporate Tax
No Personal Income Tax
No Franchise Tax on Income
No Unitary Tax
No Inheritance or Gift Tax
Minimal Employer Payroll Tax
Competitive Sales & Property Tax Rates
Quality of Life in Northern Nevada
Northern Nevada enjoys four mild seasons throughout the year and the distinct seasons are what make Northern Nevada such a great place to live. From skiing in the morning to golfing in the afternoon Northern Nevada offers a wealth of outdoor recreation year round. With a mix of high desert, lakes and mountains there is something for everyone to enjoy. Nevada is rich in the arts and has an abundance of weekend festivals, annual events such as the Balloon Races, Reno/Tahoe Open, Hot August Nights, Artown & world class entertainment. Whether you are looking to live in the City or you want a more rural atmosphere or something in between Northern Nevada has it all!
Climate
| | |
| --- | --- |
| Average Annual Snowfall | 22.2″ |
| Average Annual Rainfall | 11.8″ |
| Average High Temperature (Summer) | 89° |
| Average Low Temperature (Winter) | 19° |
| Average Growing Season | 123 days |
| Average Yearly Days of Sunshine | 266 days |
| Altitude | 4,600′ above sea level |
Helpful Resources
Northern Nevada Development Authority (NNDA)
Nevada Commission on Economic Development (NCED)
Economic Development Authority of Western Nevada (EDAWN)
Nevada Secretary of State
NV Energy Economic Development
The Sierra Region of Nevada Data Center
Douglas County
Carson City
Washoe County
City of Reno
City of Sparks
Lyon County
Storey County